To set up Call Actions follow the instructions below
Add a tracking number to the desired campaign. Please refer to the Add Tracking Number text for steps on adding a new number.
After you have provisioned a tracking number, click on the 'Call Actions' button located on the right side of each tracking number.
Please note, this feature is available for select plans, if you do not have this feature enabled and would like to add it to your plan please contact the support team.


You'll see the form for adding Call Actions open.
Use the drop-downs to select conditions for your Call Action to execute upon, as well as the actions to perform when each condition is met.

In the example below, an incoming call will send an email notification (to the emails entered) in the event that a call greater than 0 seconds is received.
Use the 'Add Action' button to add additional actions if needed.

Press 'Save' after Call Action(s) have been set up.
Call Actions can also be set on the group level. Tracking numbers added in the future will inherit the call actions. To set Call Actions at the group follow the steps below.
Select 'Group & User' on the left side menu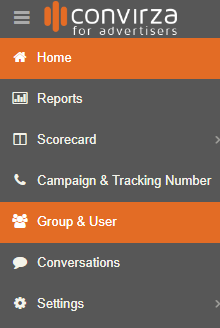 Scroll down until you find the 'Call Actions Settings' section for the account and select the '+' symbol.

The Call Actions form will appear. Proceed to fill out the form by selecting conditions from the dropdown options.
Select 'Save' after the Call Action(s) is entered.
New tracking numbers will now inherit the call action configured on the group level.