Get started with Convirza by following the steps in this guide
The following quick tips will help you set up your new Convirza account. Within minutes you can start tracking calls and collect data that will help improve your marketing strategy.
Log Into Account
Access your account here: cfa.convirza.com/#/login
Next, enter your username (the email address used to sign up for Convirza).
Second, enter the custom password you have created from your welcome email.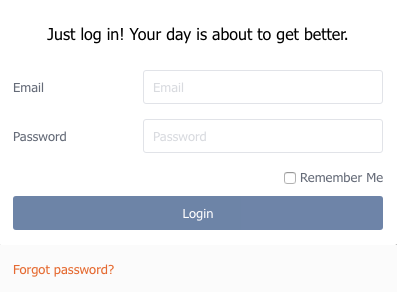 Create Campaign
Once you log in, click on Campaign & Tracking Number on the left-hand menu.

Next, click Add Campaign.

The Campaign Builder will automatically load. Type a Campaign Name, and enter a start & end date if needed.
Campaign names organize your phone numbers and group reports by purpose. They become more valuable as you add phone numbers.
Click Save Campaign Details once complete.

Add Tracking Number
Click Add Tracking Number to start searching for available numbers.

Next, type in an Area Code or City for your tracking phone number.
**You have many options for local area codes and toll-free numbers including 877, 866, 855, 844, and 833. If you would like a true 800 number or a vanity number, please call our phone number specialist at 866-8VANITY.**
Then select a number from the dropdown.

Configure Routing Options
When people dial your tracking numbers, Convirza sends the call to a ring to phone number.
The most common routing option is to connect the call with an existing phone line. Thus, the default setup is forwarding to a phone number.
Enter a Ring to Phone Number.

Convirza has lots of routing options. When you're ready to learn more, click on any of these links:
Add Overflow Number Send Directly to Voice Mail
Based on a Percentage Follow a Schedule New UI
GeoRoute Setup New UI Interactive Voice Response
Tracking Number Settings – Almost Finished
The last steps are to add two required fields:
Tracking Number Name – name given to tracking number within the campaign
Ad Source – where you plan to advertise
You also have the option to send the call to a voicemail directly or if it's not answered. To set up voicemail, click the Activate Voicemail box.
In Advanced Settings, you can upload a voicemail audio file or type a message, and Convirza's voice automation will speak your message.

Also, in the Set Caller Id To section, you may select how the Caller ID will appear.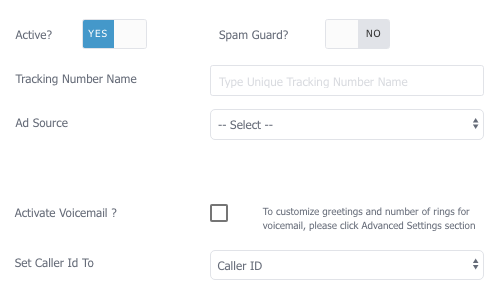 Click Save.
Although the basic account setup is complete, every time you add a new tracking number, we recommend testing the phone number and setup.
**Test your new phone number by calling it and talking to someone on the destination number.**
View Reports
You can view your caller activity by selecting Reports or Legacy Reports on the left-hand menu. The Reports page has a variety of report types and filters to choose from. The Legacy Reports page shows a simplified version of your call data. Both report pages will show caller activity for your account.
Reports

The Call Logs Report will be selected by default, use the dropdown next to 'Select a Report' to view different reports.
By default the report will show data for today, use filters to make desired changes to the date range.
Select Filters to open and close all available filters.
Select Refresh after filters have been applied to view your custom report.

Download
There are a few different ways to download the data from each report. These options are displayed in the screenshot below. Users can select which report they would like to download and if it should be downloaded as CSV or PDF or both. Users can also download the report with an option near the grid as shown in the screenshot.
*NOTE* The reports can also be downloaded from the Scheduled History page.