The Convirza reporting suite was updated to improve user experience in January 2022
We offer all the reports mentioned below. By clicking on the drop-down you can see all reports available.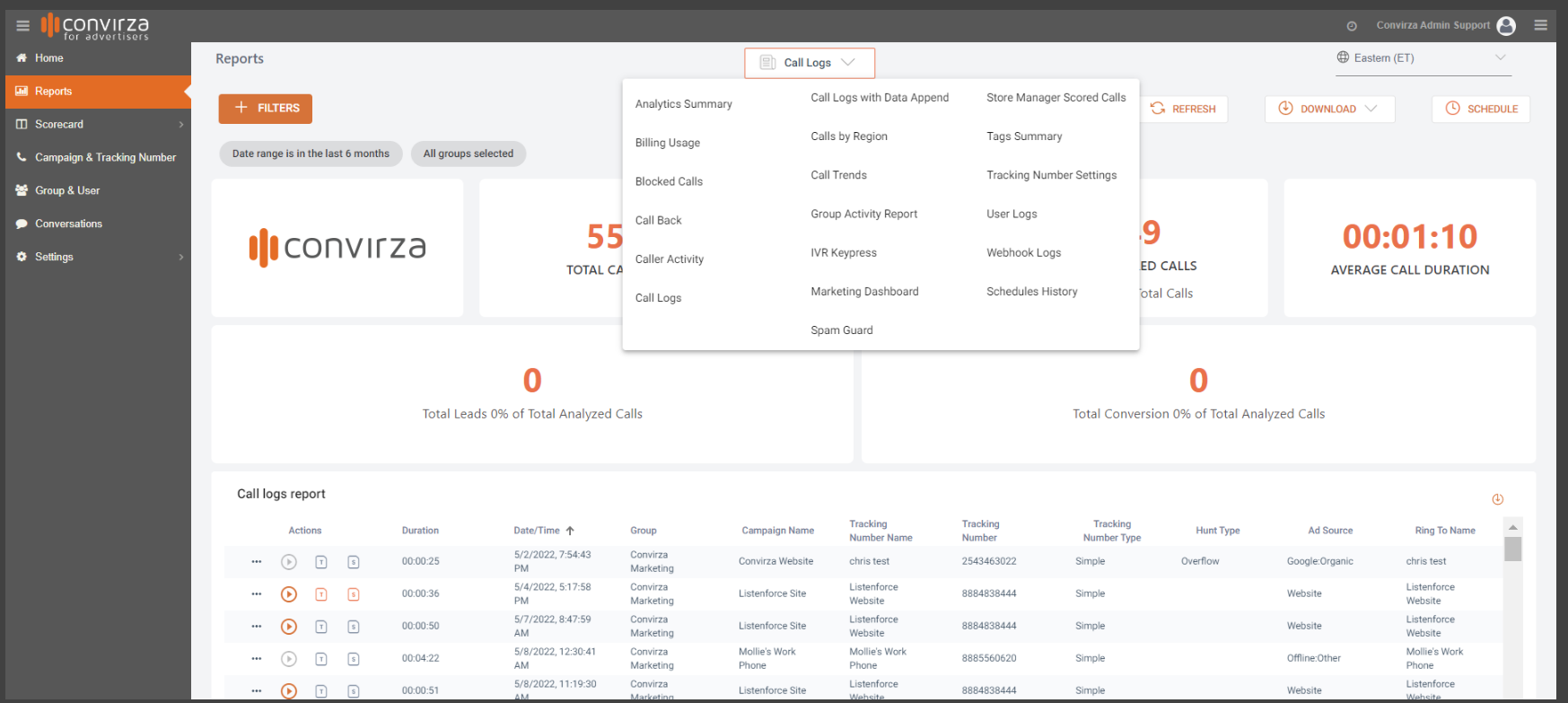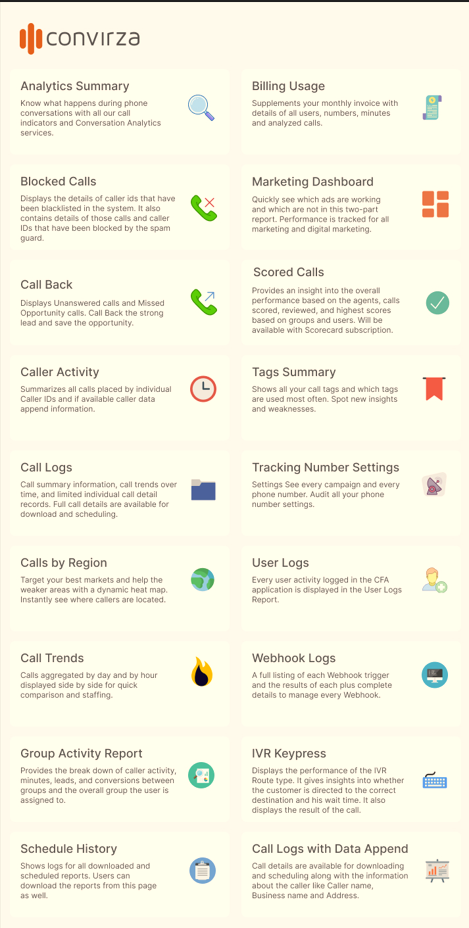 Filters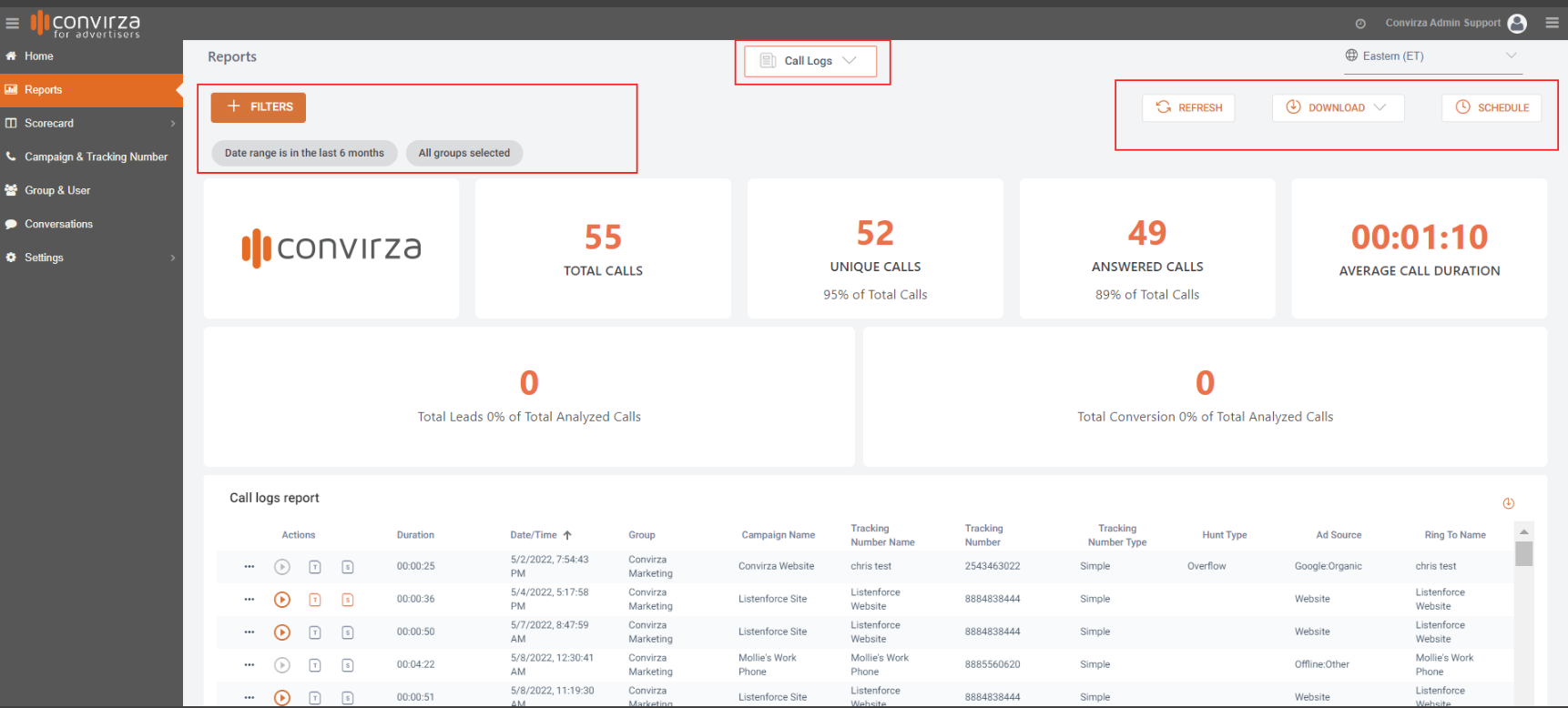 Using the filters is essential to retrieve specific data. The filter's option gives the user as many specifics so that you are able to sort the data.
When you need to add the filters click on the bold Filters icon in the left hand at the top of the report. A page will pop up with the filters to select from. Once the selected filters are updated, click the Refresh button on the window, if you do need to delete any selected filter you can click on the cross in front of the selected filter or click on 'Clear All', all filters except the default filters will get removed. Click on 'Refresh' once again after the changes are made.
Drill-down functionality works for the filters. If you select a specific group as a filter, only the campaigns available for that filter will be available for the selection under the campaigns filter. The same applies to users, tracking numbers and other filters. Different sets of filters are available for different reports. You will need to click on the 'Refresh' button after any changes are made in the filters and time zones.
If you find a filter is not working you may need to try other options to rule out which one is not working. For example, currently, the tracking number filter is not working, the workaround for it is using the Tracking Number Name filter or anything else related to the specific Number.

Recordings
Those users who have access can listen to the recordings, In the reporting suite, data may be limited based on how many calls are in the filtered date range. To listen to the recordings click on the Play Call icon in the 'Action' column available in the following reports:
A) Call Logs Report
B) Call Back Report
C) IVR Keypress Report - 1) Calls table 2) Instant Insights table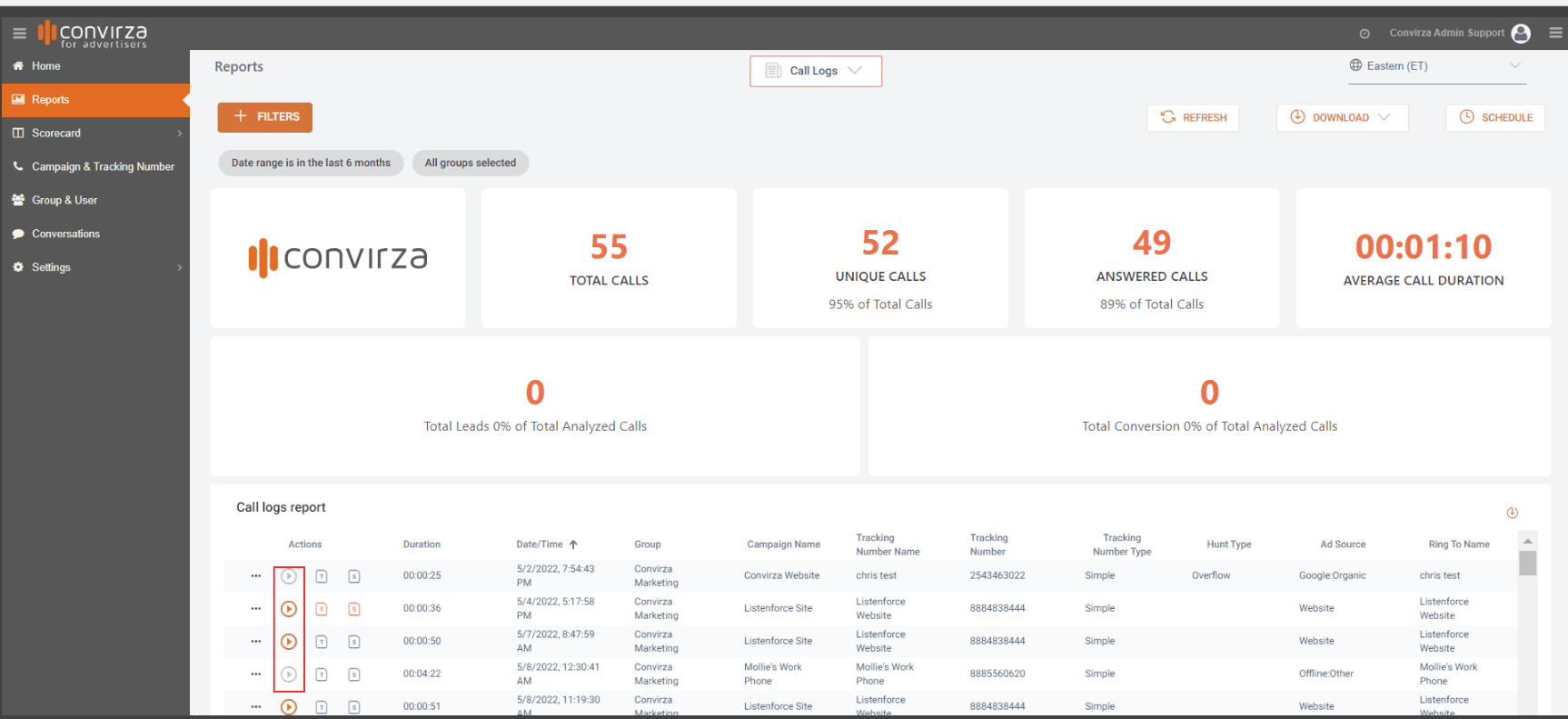 Download

There are a few different ways to download the data from each report. These options are displayed in the screenshot below. Users can select which report they would like to download and if it should be downloaded as CSV or PDF or both. Users can also download the report with an option near the grid as shown in the screenshot.
*NOTE* The reports can also be downloaded from the Scheduled History page.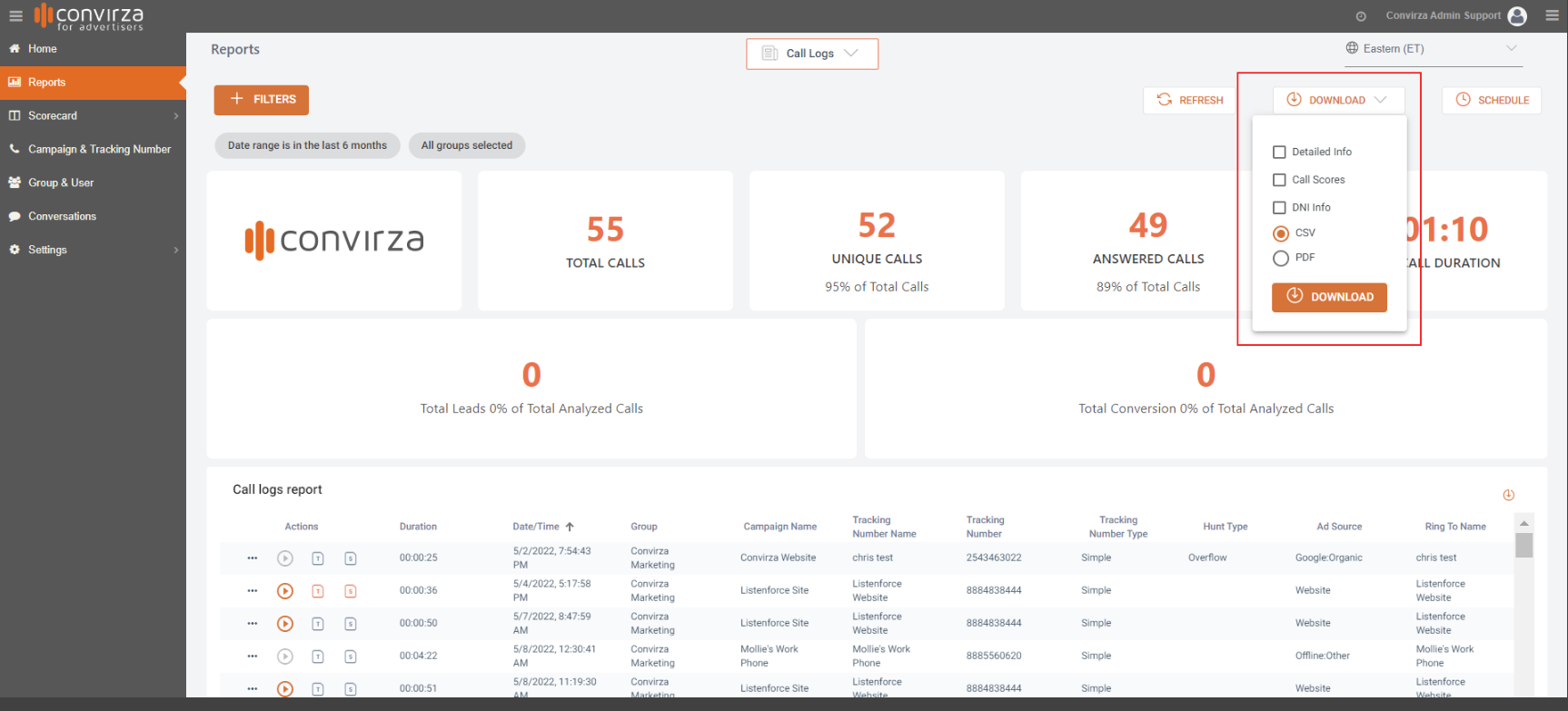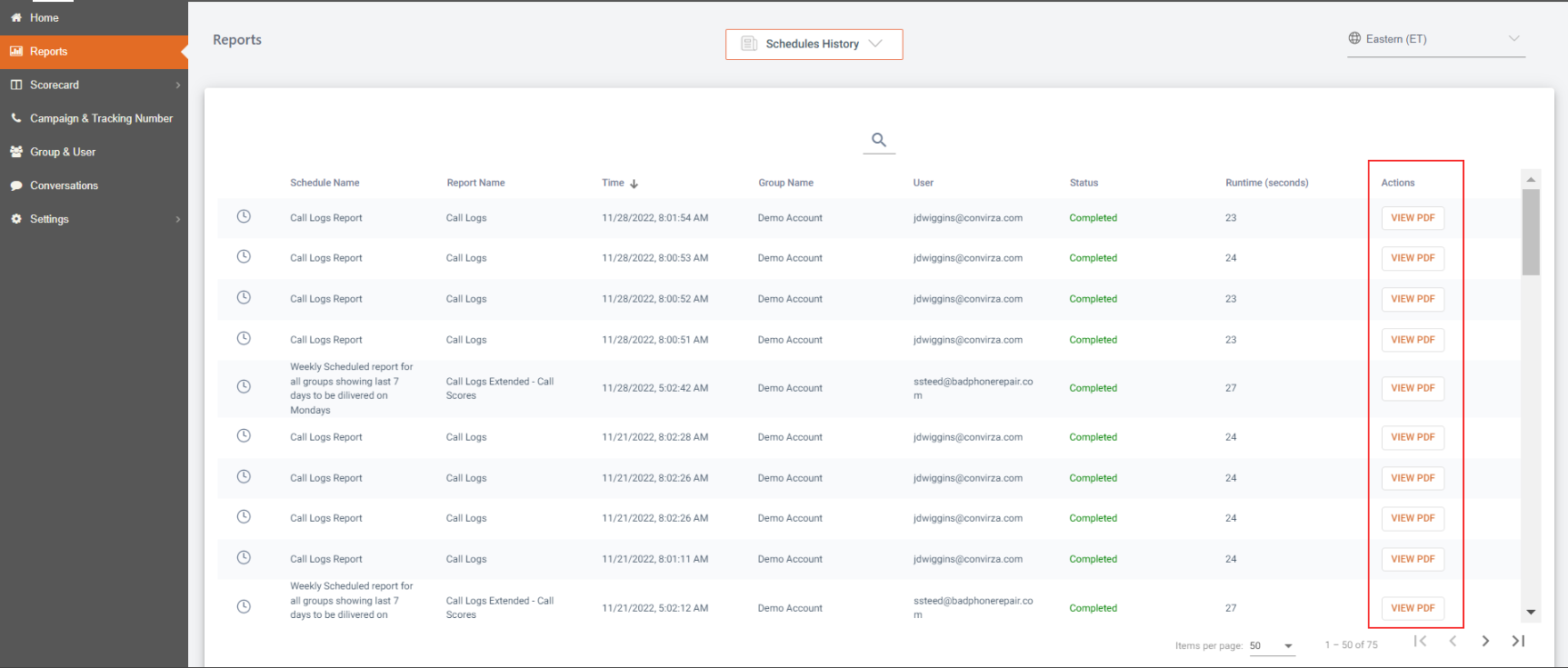 Schedules

The user can schedule the report with this option. The reports will be delivered to the email address. When the user clicks on the Schedule, the following window with the list of scheduled reports pops up.
Users can edit/Delete or add the new schedule from here. When clicked on New, the user gets the option to select the filters, frequency, recipients etc. for scheduling new reports.